Hybrid Premium - Cat Eye Gels
Cat Eye Hybrid Gel in kleuren die er nog nooit zijn geweest! Katten - hoogmoedig en mysterieus. Niet beschikbaar, intrigerend ... maar ook speels, grappig en ontwapenend! Ontdek snel hoe de kleuren er op uw nagels uitzien en voeg met speciale magneet het effect aan uw nagel toe. Geniet van de prachtig glinsterende manicure. De verhoogde hoeveelheid pigment geeft uw nagels het perfect bedekte effect. Het product wordt snel en gemakkelijk aangebracht. Het verzwakt de nagels niet en makkelijk te verwijderen met aceton. EIGENSCHAPPEN: Optimale kleurverzadiging , vele levende, unieke kleuren met katten oog effect. Perfecte dekking al bij de eerste laag. GEBRUIK: Na het aanbrengen en uitharden van de base coat, verspreid de hybride gel en verhard onder de UV lamp gedurende 2 minuten of hoogwaardide LED lamp. Breng vervolgens een tweede laag gel aan en gebruik de magneet voor het kattenoog effect op 2-3 mm gedurende 5-10 seconden. Klaar om het patroon uit te harden en af te werken met top coat.
Cat Eye Hybrid Gel in colors that have never been! Cats - haughty and mysterious. Not available, intriguing ... but also playful, funny and disarming! Find out how the colors look at your nails and add the effect to your nail with the special magnet. Enjoy the beautiful glittering manicure. The increased amount of pigment gives your nails the perfect coated effect. The product is quickly and easily applied. It does not weaken the nails and is easily to remove with acetone. FEATURES: Optimal color saturation, many vibrant, unique colors with cat eye effect. Perfect coverage already after the first layer. USE: After applying and curing the base coat, spread the hybrid gel and cure under the UV lamp for 2 minutes or high quality LED lamp. Then apply a second layer of gel and use for the magnet-effect the magnet for 2-3mm for 5-10 seconds. Ready to cure and finish the pattern with top coat.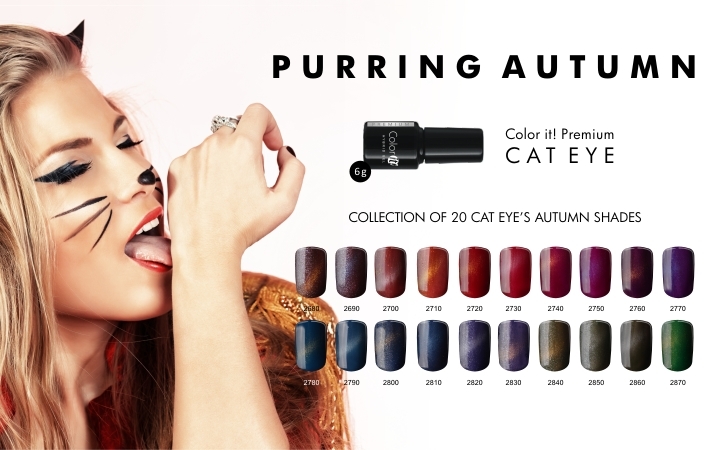 Cat Magnetic Eye Gel - Magneet

Productinfo:

∙ Magnetic Cat Eye Gel - Magneet
∙ Magneet om het kattenoog effect te creeëren
∙ GEBRUIK: gebruik de magneet voor het kattenoog effect op 2-3 mm gedurende 5-10 seconden boven de natte gel

∙ Magnetic Cat Eye…

€ 2,95

-49%

Color IT Premium - Hybrid Cat Eye Gel - 1410

Productinfo:

∙ Color IT Premium - Hybrid Cat Eye Gel - 1410
∙ Optimale kleurverzadiging, verkrijgbaar in vele levende, unieke kleuren met katten oog effect
∙ Perfecte dekking al bij de eerste laag
∙ GEBRUIK: Na het…

€ 3,95 € 2,00

-75%

Color IT Premium - Hybrid Cat Eye Gel - 1420

Productinfo:

∙ Color IT Premium - Hybrid Cat Eye Gel - 1420
∙ Optimale kleurverzadiging, verkrijgbaar in vele levende, unieke kleuren met katten oog effect
∙ Perfecte dekking al bij de eerste laag
∙ GEBRUIK: Na het…

€ 3,95 € 1,00

-75%

Color IT Premium - Hybrid Cat Eye Gel - 1430

Productinfo:

∙ Color IT Premium - Hybrid Cat Eye Gel - 1430
∙ Optimale kleurverzadiging, verkrijgbaar in vele levende, unieke kleuren met katten oog effect
∙ Perfecte dekking al bij de eerste laag
∙ GEBRUIK: Na het…

€ 3,95 € 1,00

-75%

Color IT Premium - Hybrid Cat Eye Gel - 1440

Productinfo:

∙ Color IT Premium - Hybrid Cat Eye Gel - 1440
∙ Optimale kleurverzadiging, verkrijgbaar in vele levende, unieke kleuren met katten oog effect
∙ Perfecte dekking al bij de eerste laag
∙ GEBRUIK: Na het…

€ 3,95 € 1,00

-75%

Color IT Premium - Hybrid Cat Eye Gel - 1450

Productinfo:

∙ Color IT Premium - Hybrid Cat Eye Gel - 1450
∙ Optimale kleurverzadiging, verkrijgbaar in vele levende, unieke kleuren met katten oog effect
∙ Perfecte dekking al bij de eerste laag
∙ GEBRUIK: Na het…

€ 3,95 € 1,00

-75%

Color IT Premium - Hybrid Cat Eye Gel - 1460

Productinfo:

∙ Color IT Premium - Hybrid Cat Eye Gel - 1460
∙ Optimale kleurverzadiging, verkrijgbaar in vele levende, unieke kleuren met katten oog effect
∙ Perfecte dekking al bij de eerste laag
∙ GEBRUIK: Na het…

€ 3,95 € 1,00

-75%

Color IT Premium - Hybrid Cat Eye Gel - 1470

Productinfo:

∙ Color IT Premium - Hybrid Cat Eye Gel - 1470
∙ Optimale kleurverzadiging, verkrijgbaar in vele levende, unieke kleuren met katten oog effect
∙ Perfecte dekking al bij de eerste laag
∙ GEBRUIK: Na het…

€ 3,95 € 1,00

-75%

Color IT Premium - Hybrid Cat Eye Gel - 1480

Productinfo:

∙ Color IT Premium - Hybrid Cat Eye Gel - 1480
∙ Optimale kleurverzadiging, verkrijgbaar in vele levende, unieke kleuren met katten oog effect
∙ Perfecte dekking al bij de eerste laag
∙ GEBRUIK: Na het…

€ 3,95 € 1,00

-75%

Color IT Premium - Hybrid Cat Eye Gel - 1490

Productinfo:

∙ Color IT Premium - Hybrid Cat Eye Gel - 1490
∙ Optimale kleurverzadiging, verkrijgbaar in vele levende, unieke kleuren met katten oog effect
∙ Perfecte dekking al bij de eerste laag
∙ GEBRUIK: Na het…

€ 3,95 € 1,00

-75%

Color IT Premium - Hybrid Cat Eye Gel - 1500

Productinfo:

∙ Color IT Premium - Hybrid Cat Eye Gel - 1500
∙ Optimale kleurverzadiging, verkrijgbaar in vele levende, unieke kleuren met katten oog effect
∙ Perfecte dekking al bij de eerste laag
∙ GEBRUIK: Na het…

€ 3,95 € 1,00

-75%

Color IT Premium - Hybrid Cat Eye Gel - 1510

Productinfo:

∙ Color IT Premium - Hybrid Cat Eye Gel - 1510
∙ Optimale kleurverzadiging, verkrijgbaar in vele levende, unieke kleuren met katten oog effect
∙ Perfecte dekking al bij de eerste laag
∙ GEBRUIK: Na het…

€ 3,95 € 1,00

-75%

Color IT Premium - Hybrid Cat Eye Gel - 1520

Productinfo:

∙ Color IT Premium - Hybrid Cat Eye Gel - 1520
∙ Optimale kleurverzadiging, verkrijgbaar in vele levende, unieke kleuren met katten oog effect
∙ Perfecte dekking al bij de eerste laag
∙ GEBRUIK: Na het…

€ 3,95 € 1,00

-75%

Color IT Premium - Hybrid Cat Eye Gel - 1530

Productinfo:

∙ Color IT Premium - Hybrid Cat Eye Gel - 1530
∙ Optimale kleurverzadiging, verkrijgbaar in vele levende, unieke kleuren met katten oog effect
∙ Perfecte dekking al bij de eerste laag
∙ GEBRUIK: Na het…

€ 3,95 € 1,00

-75%

Color IT Premium - Hybrid Cat Eye Gel - 1540

Productinfo:

∙ Color IT Premium - Hybrid Cat Eye Gel - 1540
∙ Optimale kleurverzadiging, verkrijgbaar in vele levende, unieke kleuren met katten oog effect
∙ Perfecte dekking al bij de eerste laag
∙ GEBRUIK: Na het…

€ 3,95 € 1,00

-49%

Color IT Premium - Hybrid Cat Eye Gel - 1560

Productinfo:

∙ Color IT Premium - Hybrid Cat Eye Gel - 1560
∙ Optimale kleurverzadiging, verkrijgbaar in vele levende, unieke kleuren met katten oog effect
∙ Perfecte dekking al bij de eerste laag
∙ GEBRUIK: Na het…

€ 3,95 € 2,00

-75%

Color IT Premium - Hybrid Cat Eye Gel - 1570

Productinfo:

∙ Color IT Premium - Hybrid Cat Eye Gel - 1570
∙ Optimale kleurverzadiging, verkrijgbaar in vele levende, unieke kleuren met katten oog effect
∙ Perfecte dekking al bij de eerste laag
∙ GEBRUIK: Na het…

€ 3,95 € 1,00

-75%

Color IT Premium - Hybrid Cat Eye Gel - 1580

Productinfo:

∙ Color IT Premium - Hybrid Cat Eye Gel - 1580
∙ Optimale kleurverzadiging, verkrijgbaar in vele levende, unieke kleuren met katten oog effect
∙ Perfecte dekking al bij de eerste laag
∙ GEBRUIK: Na het…

€ 3,95 € 1,00

-75%

Color IT Premium - Hybrid Cat Eye Gel - 1590

Productinfo:

∙ Color IT Premium - Hybrid Cat Eye Gel - 1590
∙ Optimale kleurverzadiging, verkrijgbaar in vele levende, unieke kleuren met katten oog effect
∙ Perfecte dekking al bij de eerste laag
∙ GEBRUIK: Na het…

€ 3,95 € 1,00

-75%

Color IT Premium - Hybrid Cat Eye Gel - 1600

Productinfo:

∙ Color IT Premium - Hybrid Cat Eye Gel - 1600
∙ Optimale kleurverzadiging, verkrijgbaar in vele levende, unieke kleuren met katten oog effect
∙ Perfecte dekking al bij de eerste laag
∙ GEBRUIK: Na het…

€ 3,95 € 1,00

-75%

Color IT Premium - Hybrid Cat Eye Gel - 2680

Productinfo:

∙ Color IT Premium - Hybrid Cat Eye Gel - 2680
∙ Hybride manicure is een van de nieuwste trends
∙ Optimale kleurverzadiging, verkrijgbaar in vele levende, unieke kleuren met katten oog effect
∙ Geschikt voor…

€ 3,95 € 1,00

-75%

Color IT Premium - Hybrid Cat Eye Gel - 2690

Productinfo:

∙ Color IT Premium - Hybrid Cat Eye Gel - 2690
∙ Hybride manicure is een van de nieuwste trends
∙ Optimale kleurverzadiging, verkrijgbaar in vele levende, unieke kleuren met katten oog effect
∙ Geschikt voor…

€ 3,95 € 1,00

-75%

Color IT Premium - Hybrid Cat Eye Gel - 2700

Productinfo:

∙ Color IT Premium - Hybrid Cat Eye Gel - 2700
∙ Hybride manicure is een van de nieuwste trends
∙ Optimale kleurverzadiging, verkrijgbaar in vele levende, unieke kleuren met katten oog effect
∙ Geschikt voor…

€ 3,95 € 1,00

-75%

Color IT Premium - Hybrid Cat Eye Gel - 2710

Productinfo:

∙ Color IT Premium - Hybrid Cat Eye Gel - 2710
∙ Hybride manicure is een van de nieuwste trends
∙ Optimale kleurverzadiging, verkrijgbaar in vele levende, unieke kleuren met katten oog effect
∙ Geschikt voor…

€ 3,95 € 1,00

-75%

Color IT Premium - Hybrid Cat Eye Gel - 2720

Productinfo:

∙ Color IT Premium - Hybrid Cat Eye Gel - 2720
∙ Hybride manicure is een van de nieuwste trends
∙ Optimale kleurverzadiging, verkrijgbaar in vele levende, unieke kleuren met katten oog effect
∙ Geschikt voor…

€ 3,95 € 1,00

-75%

Color IT Premium - Hybrid Cat Eye Gel - 2730

Productinfo:

∙ Color IT Premium - Hybrid Cat Eye Gel - 2730
∙ Hybride manicure is een van de nieuwste trends
∙ Optimale kleurverzadiging, verkrijgbaar in vele levende, unieke kleuren met katten oog effect
∙ Geschikt voor…

€ 3,95 € 1,00

-75%

Color IT Premium - Hybrid Cat Eye Gel - 2740

Productinfo:

∙ Color IT Premium - Hybrid Cat Eye Gel - 2740
∙ Hybride manicure is een van de nieuwste trends
∙ Optimale kleurverzadiging, verkrijgbaar in vele levende, unieke kleuren met katten oog effect
∙ Geschikt voor…

€ 3,95 € 1,00

-75%

Color IT Premium - Hybrid Cat Eye Gel - 2750

Productinfo:

∙ Color IT Premium - Hybrid Cat Eye Gel - 2750
∙ Hybride manicure is een van de nieuwste trends
∙ Optimale kleurverzadiging, verkrijgbaar in vele levende, unieke kleuren met katten oog effect
∙ Geschikt voor…

€ 3,95 € 1,00

-75%

Color IT Premium - Hybrid Cat Eye Gel - 2760

Productinfo:

∙ Color IT Premium - Hybrid Cat Eye Gel - 2760
∙ Hybride manicure is een van de nieuwste trends
∙ Optimale kleurverzadiging, verkrijgbaar in vele levende, unieke kleuren met katten oog effect
∙ Geschikt voor…

€ 3,95 € 1,00

-75%

Color IT Premium - Hybrid Cat Eye Gel - 2770

Productinfo:

∙ Color IT Premium - Hybrid Cat Eye Gel - 2770
∙ Hybride manicure is een van de nieuwste trends
∙ Optimale kleurverzadiging, verkrijgbaar in vele levende, unieke kleuren met katten oog effect
∙ Geschikt voor…

€ 3,95 € 1,00

-75%

Color IT Premium - Hybrid Cat Eye Gel - 2780

Productinfo:

∙ Color IT Premium - Hybrid Cat Eye Gel - 2780
∙ Hybride manicure is een van de nieuwste trends
∙ Optimale kleurverzadiging, verkrijgbaar in vele levende, unieke kleuren met katten oog effect
∙ Geschikt voor…

€ 3,95 € 1,00

-75%

Color IT Premium - Hybrid Cat Eye Gel - 2790

Productinfo:

∙ Color IT Premium - Hybrid Cat Eye Gel - 2790
∙ Hybride manicure is een van de nieuwste trends
∙ Optimale kleurverzadiging, verkrijgbaar in vele levende, unieke kleuren met katten oog effect
∙ Geschikt voor…

€ 3,95 € 1,00

-75%

Color IT Premium - Hybrid Cat Eye Gel - 2800

Productinfo:

∙ Color IT Premium - Hybrid Cat Eye Gel - 2800
∙ Hybride manicure is een van de nieuwste trends
∙ Optimale kleurverzadiging, verkrijgbaar in vele levende, unieke kleuren met katten oog effect
∙ Geschikt voor…

€ 3,95 € 1,00

-75%

Color IT Premium - Hybrid Cat Eye Gel - 2810

Productinfo:

∙ Color IT Premium - Hybrid Cat Eye Gel - 2810
∙ Hybride manicure is een van de nieuwste trends
∙ Optimale kleurverzadiging, verkrijgbaar in vele levende, unieke kleuren met katten oog effect
∙ Geschikt voor…

€ 3,95 € 1,00

-75%

Color IT Premium - Hybrid Cat Eye Gel - 2820

Productinfo:

∙ Color IT Premium - Hybrid Cat Eye Gel - 2820
∙ Hybride manicure is een van de nieuwste trends
∙ Optimale kleurverzadiging, verkrijgbaar in vele levende, unieke kleuren met katten oog effect
∙ Geschikt voor…

€ 3,95 € 1,00

-75%

Color IT Premium - Hybrid Cat Eye Gel - 2830

Productinfo:

∙ Color IT Premium - Hybrid Cat Eye Gel - 2830
∙ Hybride manicure is een van de nieuwste trends
∙ Optimale kleurverzadiging, verkrijgbaar in vele levende, unieke kleuren met katten oog effect
∙ Geschikt voor…

€ 3,95 € 1,00

-75%

Color IT Premium - Hybrid Cat Eye Gel - 2840

Productinfo:

∙ Color IT Premium - Hybrid Cat Eye Gel - 2840
∙ Hybride manicure is een van de nieuwste trends
∙ Optimale kleurverzadiging, verkrijgbaar in vele levende, unieke kleuren met katten oog effect
∙ Geschikt voor…

€ 3,95 € 1,00

-75%

Color IT Premium - Hybrid Cat Eye Gel - 2850

Productinfo:

∙ Color IT Premium - Hybrid Cat Eye Gel - 2850
∙ Hybride manicure is een van de nieuwste trends
∙ Optimale kleurverzadiging, verkrijgbaar in vele levende, unieke kleuren met katten oog effect
∙ Geschikt voor…

€ 3,95 € 1,00

-75%

Color IT Premium - Hybrid Cat Eye Gel - 2860

Productinfo:

∙ Color IT Premium - Hybrid Cat Eye Gel - 2860
∙ Hybride manicure is een van de nieuwste trends
∙ Optimale kleurverzadiging, verkrijgbaar in vele levende, unieke kleuren met katten oog effect
∙ Geschikt voor…

€ 3,95 € 1,00

-75%

Color IT Premium - Hybrid Cat Eye Gel - 2870

Productinfo:

∙ Color IT Premium - Hybrid Cat Eye Gel - 2870
∙ Hybride manicure is een van de nieuwste trends
∙ Optimale kleurverzadiging, verkrijgbaar in vele levende, unieke kleuren met katten oog effect
∙ Geschikt voor…

€ 3,95 € 1,00