Hybrid Premium - Holo Gels
Raak gecharmeerd van HOLO-magie! In de wereld van hybride nagels was het verkrijgen van het hologrameffect nooit zo eenvoudig! Geef het kleur! Premium Holo is de verzameling die elke liefhebber van een buitengewone manicure zal verrassen. Het enige dat u nodig hebt, is slechts één penseelstreek om regenboogmousserende multidimensionale nagels te hebben. Premium is perfect om het elke dag of bij speciale gelegenheden te dragen. Een grote hoeveelheid pigment zorgt voor een goed dekkend effect. Het wordt gemakkelijk en snel toegepast. Het is 100% verwijderbaar met aceton of soak off remover. Color IT Premium Hybrid Gel blijft perfect op de nagels en de kleur is intensief, wordt niet dof en blijft fris, alsof hij net is aangebracht.
Gebruik: Toepassen op basisgel - 1 of 2 lagen. Aanbevolen uithardingstijd 2 minuten in UV-lampen en hoogwaardige LED-lampen. Zet de manicure vast met een toplaag.
Get charmed by HOLO magic! In the world of hybrids obtaining the hologram effect wasn't so easy! Color it! Premium Holo is the collection which will delight every enthusiast of extraordinary manicure. All you need is only one brush stroke to have rainbow sparkling multidimensional nails. Color it! Premium is perfect to wear it every day or on special occasions. High amount of pigment makes great covering effect. It is easily and quickly applied. It's 100% removable with acetone or soak off remover. Color IT Premium Hybrid Gel perfectly remains on nails, and its color is intensive, does not become dull and stays fresh, as if it just applied.
Way of use: Apply on base gel – 1 or 2 layers. Recommended curing time 2 minutes in UV lamps and high quality LED lamps. Secure the stylization with top coat.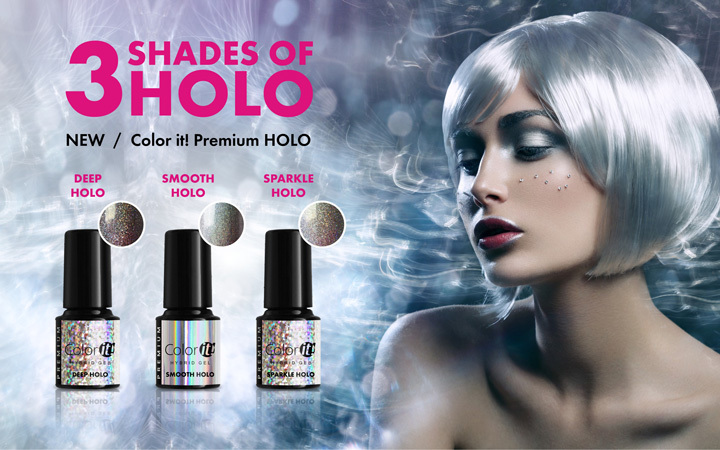 Color IT Premium - Hybrid Holo Gel - Deep Holo

Productinfo:

∙ Color IT Premium - Hybrid Holo Gel - Deep Holo
∙ Optimale kleurverzadiging, verkrijgbaar in vele levende, unieke kleuren met holo effect
∙ Perfecte dekking al bij de eerste laag
∙ GEBRUIK: Na het aanbrengen…

€ 7,95